Your guide to protecting your airbnb in South Bend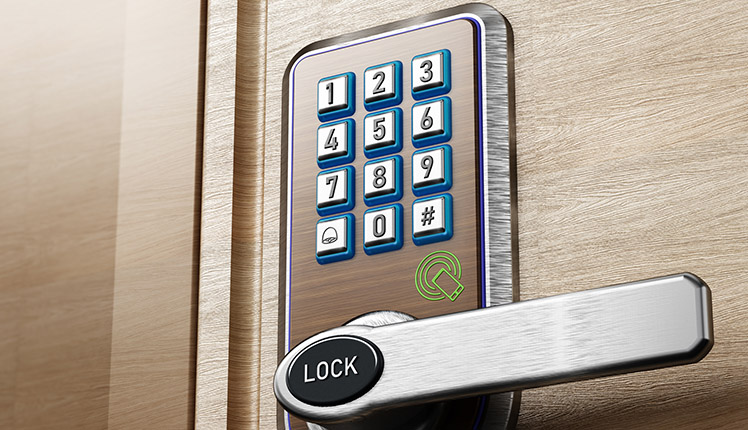 Whether you sublet the family lake house or you run an assortment of Airbnbs, it's often challenging to protect your rental properties in South Bend. With physical keys to different renters, it's normal to worry about disappearing valuables or former renters arriving out of the blue. Not to mention, what would you do in the event of a fire or flood at the property while you're offsite?
From smart locks to fully automated security systems, here's a quick guide on how to protect your Airbnb in South Bend.
Smart door locks eliminate people from copying your keys
When a visitor checks out, they may leave the keys behind for the next guest. However, if a tenant took or made a copy of a key, it would be possible to access your place again later. Needless to say, you might replace your locks if a key goes missing, but that takes time and money.
Thankfully, you can use smart door locks that operate in conjunction with your home security system to alleviate these worries. You will then issue each visitor their personal code number for entry. When they check out, there's no reason to mess with the key exchange. You can simply program the door code to deactivate when they vacate the property. If former inhabitants return and make an attempt to enter with their prior entry code on the keypad, you will be alerted with a notification of a failed entry on your mobile device.
Home automation makes available rentals appear to be inhabited
The goal is that your South Bend rental property will have a steady flow of renters, but that isn't likely to always be possible. Despite this fact, you need to make it seem that guests are there so your place isn't an easy mark for burglars. Implementing a security system that includes home automation gives you the chance to use smart lighting, motion sensors, and video cameras that make your lodging seem occupied.
Begin by programming your smart lights to come on at specific hours of the evening. You will also set your cell phone app to notify you if your exterior cameras spot an intruder lurking around your perimeter or walking toward your primary entry. You have the opportunity to take advantage of the two-way audio feature to make them aware that they're being watched or arrange for your lights to instantly turn on when a surveillance device or motion detection equipment identifies suspicious activity.
Protect your South Bend rental property with 24-hour monitoring
Your occupants will be more relaxed if they are safeguarded against burglars, particularly when South Bend is not familiar to them. When a robber tries to invade your property, your home security system will not only sound a siren but will also notify your 24-hour monitoring agents. Regardless of your location, help will be on its way. Your monitoring specialists will even act as your point person and patch you in when you're available.
Besides intrusions, your monitoring team can link to fire alarms, flood sensors, and carbon monoxide detectors. It is likely to be distressing for your visitor if a water heater springs a leak or something catches fire. You will then receive a cell phone alert that a potentially dangerous event has taken place, but a representative will also arrange for assistance while you're en route.
Order an innovative home protection plan in South Bend
Protect your South Bend Airbnb with the latest in home protection. Luckily, Vivint provides great features like smart lighting, smart door locks, and 24/7 monitoring. Reach out today and our home security experts will personalize a system that makes sense for your Airbnb or rental property. Dial (574) 601-4641 or submit the form today!